Dolomites Hike 3
Day trips in and around the Sella
Starting point of several walks of one or two days is Corvara, a village in the upper part of Val Badia, at the north side of the Sella massif and under the Sas Songher of the Puez massif. The long distance walk Alta Via 2 is crossing this area.
First walk is to Lech Boesè, a little lake between steep walls. The route offers nice views on the valley and is frequented by Parapente flyers and tourists (there is a lift).
In the spectacular Puez-Odle Natural Park the route traverse the Alti Piano de Crespëina (plateau with many fossils) and ends in the unspoiled Valluna, a long valley with steep walls.
Next is a two days walk. First up to the Piz Boè (3.152 m) from which we see the glaciers of Marmolade blinking between heavy, grey clouds. We sleep in the Rifugio Boè on the Sella plateau, and descent by the Alta Via 2 through magnificent canyons down to Passo Gardena.
In the Odle (Geisl) also two days hiking. We pass the Langkofel on our way to Wolkenstein in Val Gardena. From there we walk to the Rifugio Firenze. Very nice, green and quiet, with some farms and forest. Backwards beautiful sight over Val Gardena.
The very old tavern near the church Santa Croce is high above the Val Badia, the walk crosses alps with nice Tiroler farms.
6 panorama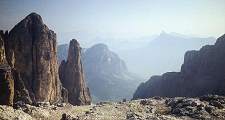 Practical route information
1. Creb de Sella > Lech Boč
2. Car to Passo Gardena > Alta Via 2 - Passo Cir. Danter la Pizes > Forcella dei Campei > Langental > Selva Wolkenstein > by bus to Passo Gardena
3. Cred de Sella > Lech Boč > Piz Boč > Rif. Boč > Alta Via 2 - l'Antersas > Rif. Pisciadú > Val de Mesdi > Rü Pisciadú
4. By car to Wolkenstein in Van Gardena > Rif. Juac > Rif. Firenze in Cisles > Fermeda hutte > Ortisei > Wolkenstein
5. By car to La Villa Stern > La Parüa > Hospicio di Santa Croce > Pescolderunch > La Villa Stern.
Walking days 7, distance 61 km, average height 1.950 m.
---
Copyright ©1998/01 Jaap van der Veen